The Pot-a-Doodle Do shop is filled to the gunwales with goodies! Get crafty with some super gift ideas for loved ones, something to share, or something just for you from our fabulous selection. Set in the verdant rolling countryside of North Northumberland, our fascinating shop has discerning local delicacies, souvenirs, jewellery, toys, outdoor accessories and even camping essentials that will make any trip to Pot-a-Doodle Do a memorable experience for all the family.
*New in-store ALNWICK GIN*. Carefully crafted in the heart of Northumberland. A fantastically versatile gin which is perfect in any classic or contemporary cocktail!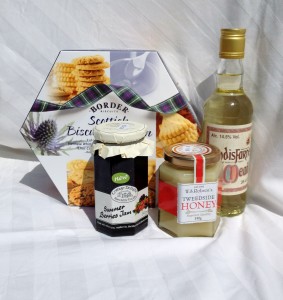 There's a superb selection of the finest and freshest local Northumbrian and Scottish Borders produce to take home with you, including such delicacies as traditional Lindisfarne Meade from Holy Island, a great range from Borders Biscuits, heavenly Chain Bridge Honey, plus an amazing selection of hand made jams, preserves and chutneys to tickle your taste buds. All the fabulous local products for sale at Pot-a-Doodle Do are made traditionally, with love and care.
You can even select a little something special for dad or granddad from a large range of beers or traditional sweeties; mums and grandmas will love all the scarves and costume jewellery too!
Holidaymakers, guests staying in our wooden wigwams and Mongolian yurts, campers, and visitors at Pot-a-Doodle Do can stock up on those little forgotten essentials and emergency items; just as easily as kettle barbeques, charcoal, and delicious ice creams from Lucas of Musselburgh and Giacopazzis of Eyemouth, which are also available here in the shop.