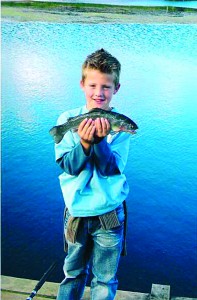 Take time out to relax at Pot-a-Doodle Do with a spot of fishing in the well-stocked two-acre lake. This beautifully maintained Trout Lake is surrounded by stunning North Northumbrian countryside, and is the ideal tonic for the stresses and strains of modern living.
Perfect for all levels of fishing competence from the seasoned enthusiast, amateur, or the complete novice, the lake has wooden platforms from which you can fish, as well as the grassy banks. The lake is very well stocked with rainbow trout, varying in size from 1 ½ lb to 6lb, so everyone has a good chance of being able to catch their own dinner, whether using fly or float and bait.
Order your tackle before you arrive, and it will be waiting and ready for you to set up, and wind down. Bait is available throughout the year in the shop. The fishing lake is very popular, so it's always best to book, to avoid disappointment on the day. Young and novice anglers always find the wooden platforms give better footing and stability for fishing than the glassy banks. Unfortunately there is no disabled or wheelchair access to the fishing lake at Pot-a-Doodle Do.