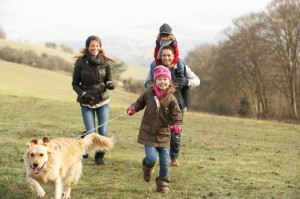 Whether staying in the Wigwam Village at Pot-a-Doodle Do, having a creative day out in the Interactive Art Studio, or simply enjoying our Café Bistro and shop, you'll love the stunning panoramic views and beautiful countryside that surrounds us.
Make the most of your holiday in our Wigwam Village by picking up a map of walks (50p each and all the proceeds go to "Great North Air Ambulance") in and around the local area.  Available from the Café Bistro and our shop, the walks are suitable for all levels of fitness and all ages.
Choose from a selection of panoramic and very picturesque walks that start and end at Pot-a-Doodle Do, including: A walk along the cliffs at Spittal with exceptional views of the holy island of Lindisfarne and the iconic castle at Bamburgh, of approximately three and a half miles. Or a walk through the Northumbrian countryside in the farmland around Cheswick, including a coastal section with a distance in total of approximately six and a quarter miles. The short and charming walk along the beach at Cocklawburn is approximately two and a half miles, and has excellent butterfly, bird and wildlife spotting opportunities.
For the more adventurous walker the countryside and coastline near the Pot-a-Doodle Do Wigwam Village is garnished with gems, including historically interesting and more challenging paths. Dating back through the centuries to a time when Christianity was first brought to the shores of Northumbria, St Cuthbert's Way stretches from the holy island of Lindisfarne to Melrose Abbey. Tracking the path walked by the venerable man himself, this is a long distance walk encompassing the Northumbrian coast, countryside, the Cheviots and the Scottish Borders.
As part of a criss-crossing ancient system of pathways stretching the length and breadth of the country, St Cuthbert's Way joins with many other ancient thoroughfares including, The Southern Upland Way, St Oswald's Way, Sir Walter Scott Way, The Borders Abbeys Way, The Roman Heritage Way, and the Pennine Way. With a total distance of approximately sixty-two and a half miles this is no easy stroll, and should be attempted by more experienced walkers, rather than novices.
For a more sedate stroll take the river path along the Tweed from a starting point on the Elizabethan fortifications of Berwick, along the ramparts, and onward into the countryside; or a sea front walk to the coastal village of St Abbs, where the crystal clear waters are filled with the opalescent flashes of gleaming jellyfish in summer.
No matter where you wander, one of our maps will help you discover the past history of our area, as well as it's beauty, birds and wildlife. A holiday at the Wigwam Village lets you feel closer to nature, and experience the seasons, Northumberland and the Borders in all their glory.