Visit us for a Crafty Christmas in Berwick Upon Tweed, Northumberland!
Personalised handmade Christmas gifts for family and friends available now until 22nd December 2019!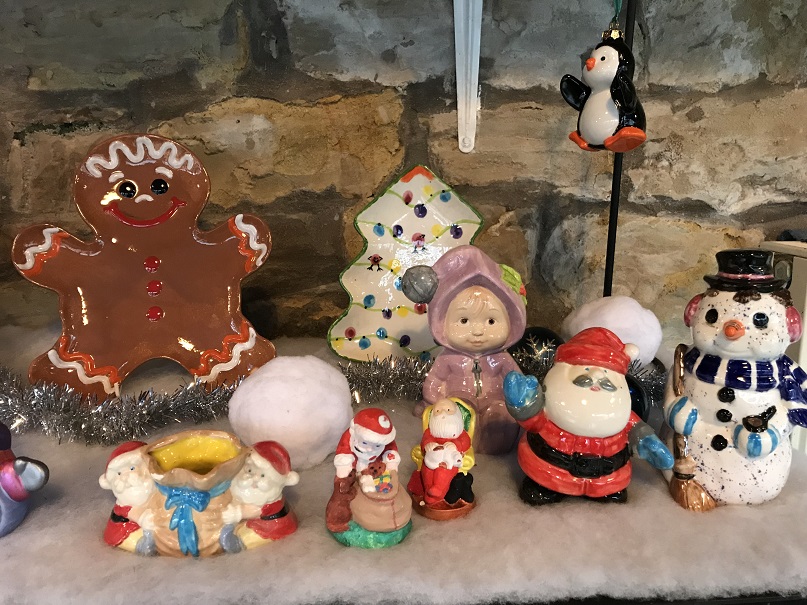 Do you always approach Christmas with a feeling of dread when thinking about Christmas gifts?
What can we get for Mum and Dad, Granny and Grandpa, your favourite Auntie or Uncle who already have everything they need.  Well our Christmas Pottery Painting Sessions might just be for you.
When can you start making your Christmas gifts?
As the nights are drawing in  and we are just about to change the clocks that can only mean that Christmas is just around the corner.
It also means that Christmas Ceramic Painting is now in full flow at Pot a Doodle Do.
You get to paint a variety of Christmas decorations, ceramic baubles or Gingerbread men for the tree, plates and bowls that can be used for Christmas sweets and treats – all personalised to make that Christmas gift extra special! Or try baby foot prints and hand prints on a plate – a real winner with Granny!
Ceramic painting is suitable for all ages and abilities.  Creating your very own personalised piece of pottery is a greatly satisfying and relaxing achievement.  We all lead such busy lives it is so nice to take time out of our crazy schedule and do something therapeutic and relaxing.  Forget about your mobile phone and the "to Do" list and just let your creative juices flow as you create something really special.
"I don't think I can do that" I hear you say – we hear this all the time but how wrong you can be – anyone can paint ceramics.  Firstly you choose the piece that you would like to paint and then you dampen it with water to get rid of any dust or particles and prepare the piece for decoration. Then you choose your Base Coat for the piece and coat it three times with that colour, letting it dry each time in between.  You can use the drying time to have a think about your design.  You are then ready to put your design on it – this can be done freehand, sketched on with a pencil or traced on using tracing paper.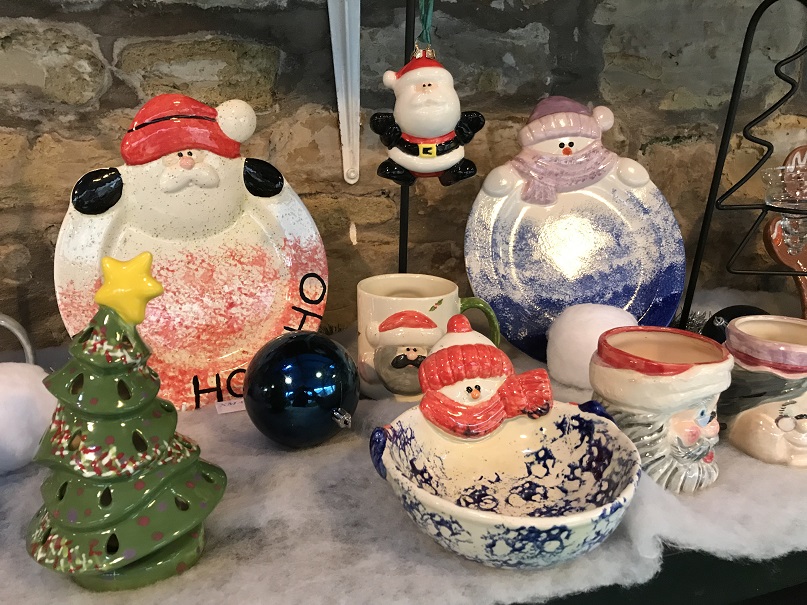 Choose your colours for your design and then sit back and enjoy your painting.  Its as simple as that. Once you have finished your masterpiece you leave it with us and we can glaze and fire it for you and then a few days later you can pick it up and take it home with you.
You don't feel like you are Christmas shopping as you get the chance to relax and enjoy some quality time with family and or friends To chat and enjoy a good catch up.
We also have a restaurant on site where you can enjoy a truly deserved coffee or tea with traybakes and cakes- or lunch if you are with us through the day maybe with a sneaky glass of wine or beer – the choice is yours!
Christmas gift painting is available now until 22nd December (Wednesday to Sunday 10am to 4pm, last intake is 3pm). Prices start from £10 upwards.
For more details and bookings please call (0)1289 307107 or contact us here.